About Orillia's Wine Experience
Orillia's Wine Experience has been helping people craft their own wine since 1998.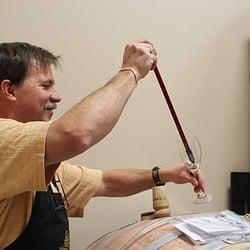 We make it fun - and we save you money. We provide everything you need right here on our premises; all you do is add the yeast, wait a few weeks then bottle it and enjoy.
Our customers say their craft wine tastes similar or better to those from traditional outlets but at about half the price.
What's more we guarantee it. If you are not absolutely delighted with the wine you make at Orillia's Wine Experience, simply return it for a replacement.
Our wines have won numerous medals at the largest amateur winemaking competition in North America.
Owner Don Corrick is a master wine crafter who has made some of his own medal-winning products.

About Winexpert
The Winexpert Quality Story: "From Vineyard to Glass"
Winexpert's commitment to excellence, and dedication to delivering the highest quality products in the winemaking market, has made us the world's foremost supplier of premium wine kits. Our careful sourcing of supply, combined with state-of-the-art processing facilities and stringent quality control procedures continue to set the industry standard.
Our dedication to product excellence began over 20 years ago when we created the first modern wine kit. It continues today as we source high quality grape juice and concentrate from the world's best wine regions. We strive for quality at every level in our operation, seeking to bring the finest these wine regions have to offer right to our customers' glass.
Great wine is not made in a factory; it is made in the vineyard, where sunshine, good soil and careful tending make great grapes. We regularly visit with our growers and suppliers, and have stringent quality specifications and standards to ensure that we get the best possible varietals. We are offered many different grape juices and concentrates every year, but we make certain we select only the best available for our kits.
Immediate on-site grape sorting, crushing and pressing, combined with state-of-the-art processing techniques, as well as non-stop shipping systems, combine to ensure that we get the highest levels of flavour and aroma from our grape juices and concentrates. Our commitment to quality doesn't end there. In our environmentally controlled cellars, our highly trained Quality Assurance Team monitors all our juices and concentrates continuously to ensure that they stay in top condition. With years of experience, our winemakers and Quality Assurance Team follow proven Quality Assurance protocols, to ensure our high standards for consistently producing wine kits of the highest quality are met – every harvest and every year.
Winexpert operates like a "functional winery" – combining the traditional art of blending for consistency balanced with leading process technology to make the best winemaking products in the industry. This ensures that our wines are delicious and well-balanced, and it explains why wines made with Winexpert kits consistently win the most awards and medals in the North America's largest amateur winemaking competitions. In fact, they win medals even when competing with wines made from fresh grapes.
At Winexpert, we are always striving for improvement, consistency and quality. Winexpert's commitment to superiority doesn't end at the kit. We also provide Winexpert authorized retailers with extensive training through our exclusive Winemaking Excellence Programs. From time to time we also support our retailers in hosting evening wine education events. These are fun educational evenings that provide you with further knowledge on wine, food impressive pairings, or other topics related to the wine lifestyle.
Everyone that represents Winexpert strives to positively affect quality at every level, from the vineyard to the glass, so that you can make the best wine possible – every single time!

Source: www.winexpert.com